Japanese consortium to debut floating wind turbine project in November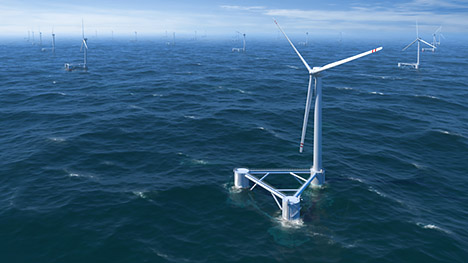 The consortium developing a floating wind turbine demonstration project offshore Fukushima, Japan, says its 2 MW turbine is slated to begin operation in November.
The consortium includes Marubeni Corp. (project integrator), the University of Tokyo (technical advisor), Mitsubishi Corp., Mitsubishi Heavy Industries, Japan Marine United, Mitsui Engineering & Shipbuilding, Nippon Steel & Sumitomo Metal Corp., Hitachi, Furukawa Electric, Shimizu, and Mizuho Information & Research. The project, announced in March 2012, is sponsored by the Ministry of Economy, Trade and Industry. Following the Fukushima nuclear disaster, the Japanese government revealed plans to test the viability of large-scale floating wind farms.
So far, the consortium says it has connected an extra-high-voltage undersea cable and dynamic cable to a 66 kV floating power substation and a 2 MW downwind-type floating wind turbine. Depending on the meteorological and sea conditions, operations are expected to commence on the first phase of the project in November. The second stage of the project will test 7 MW technology and is expected to be complete by the end of 2015.
Related posts