CTC Global Partners NARI Group in Groundbreaking Transmission Venture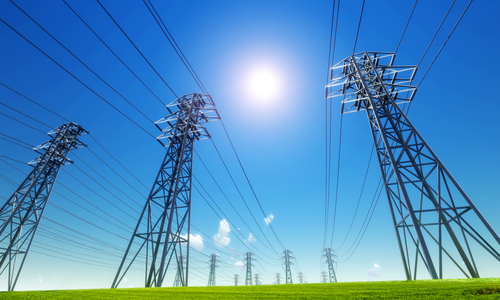 Creating a high-tech power grid isn't just about information and communications technology, data-crunching software and other such digital technologies. Sometimes the innovations can be hidden inside the power lines themselves.
CTC Global is hoping that its new partnership with one of China's biggest grid players will help push its own transmission technology into what's set to become the world's biggest power grid market.
On Wednesday, the Irvine, Calif.-based maker of aluminum-conductor composite core (ACCC) transmission cable (officially known as "conductor" in utility parlance), announced that it's formed a joint venture with the NARI Group, a wholly owned subsidiary of the State Grid Corporation of China (SGCC).
CTC already has a sizable amount of its ACCC conductor in use in grid projects in China, but this is the first time CTC has partnered with another company to build the composite carbon-and-glass material that forms the heart of transmission lines that are lighter, more heat-resistant, and less susceptible to line loss than the steel-core cables that are the industry standard today.
To be sure, ACCC comes at a price premium, with a cost roughly twice that of traditional steel-core conductor. But in a world where new transmission corridors take decades to site, permit and build, being able to use lighter, stronger material to expand the capacity of existing transmission paths, rather than build new ones, has been enough of a draw to put it to use in about 250 projects in 28 countries around the world.
Now that CTC's ACCC conductor has seen nearly a decade in real-world use, it's starting to be used in new transmission projects, as well as in "re-conductoring" projects to expand existing capacity, Dave Bryant, director of technology at CTC, said in an interview this week. SGCC, the world's biggest utility with about 80 percent of China's grid under its purview, certainly needs to both expand its existing transmission capacity and add new lines to support its breakneck economic and industrial growth, he added.
While CTC hasn't said how much ACCC it's expecting to churn out at the new factory, he said, "I think this new JV is going to get pretty big relatively quickly," adding that the potential to drive a 50 percent increase in sales over the course of next year is possible.
ACCC conductor differs from steel-core conductor in several key ways, he said. First of all, it's lighter than steel-core cable, while retaining similar high tensile strength, which means that it can pack more power-conducting aluminum into the same diameter cable. Second, it "sags" much less than steel-core conductor does when subjected to high heat, which means that ACCC can stretch longer distances, and remain reliable at higher ambient temperatures and voltages.
These two factors can yield a transmission conductor that can reduce line losses between 25 percent and 40 percent, compared to traditional conductor, he said. Transmission line losses account for anywhere from 5 percent of overall power generated in well-designed and efficiently run systems, to as high as 10 percent in older or poorly run systems.
Cutting those losses nearly in half can add up to huge amounts of power and money saved. California lost about 6.8 percent of its power to line losses in 2008, at a value of about $2.4 billion in electricity.
The longer the distance that power is being carried, the greater the benefit of reducing those line losses, he added. China, which is building massive new transmission lines tocarry far-off solar and wind power farms being built in its western regions to cities and industrial centers in the east, is certainly applying the latest technologies to accomplish that goal, including the world's biggest deployment of high-voltage direct current (HVDC) technology.
CTC and NARI are splitting responsibilities in their new JV, named Jiangsu NARI CTC Composite Material Co., Bryant said. "We are going to manage them, provide all the equipment and maintenance, and [monitor] the supply line to ensure they only use the best materials."
As for protecting CTC's intellectual property in the process of transferring technology to its new partner, he conceded that China has been known to be a challenging environment for foreign companies seeking to keep their IP to themselves, as the case of American Superconductor and Sinovel has made abundantly clear. Indeed, "There are a number of companies in China that are already trying to clone our product, despite our international patents  — but nobody I've seen has come close," he said
But Bryant pointed to NARI's status as one of China's major grid companies — "the big dog" in the country's competitive landscape — as a good reason to take the step of sharing CTC's core IP in order to establish the technology's bona fides in the Chinese market. At the same time, the Chinese government is putting pressure on its domestic industries to not abuse intellectual property, he said.
Related posts