Smart Grid is a Necessity, States IBM India VP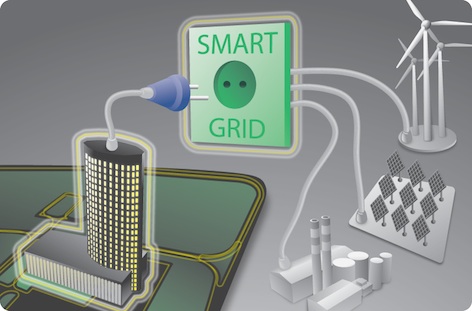 Electric utilities in India are at the threshold of a major transformation enabled by automation and IT applications, according to IBM.
The smart grid is much more far-reaching than its frequent portrayal. It seeks to simplify the entire energy delivery system. It covers the way electricity is generated, transmitted and in the end used by a consumer. It is a collection of technologies which increase the efficiency of energy generated and consumed. A smart grid integrates renewable energy into the electricity supply system and engages consumers in the system.
The existing grids entail one directional flow, but smart grids help provide a two way path. Simply put, a consumer can buy power from a utility, but also sell excess power he generates say from a solar photovoltaic system.
Jeby Cherian, Vice-President and Managing Partner, Global Business Services, IBM India, outlines the status of smart grids in India and challenges ahead.
The Power Ministry has initiated several measures, including a task force for smart grids. What is the ground situation?
India recognises the benefits of a smarter planet, the power of the smart grid and its impact on people and the economy. Governments, regulatory bodies and utility companies are working to address current and future demands. The India Smart Grid Forum, a public private partnership with the Ministry of Power, and the India Smart Grid Task Force have been established to create a roadmap for deployment of smart and intelligent grid technologies. The National Solar Mission seeks to make India a leader in solar energy.
The 'smart grid' is no longer just a concept, it's a necessity. With about one million people around the world moving into cities each week, experts predict population in the world's cities will double by 2050.
In 1900, 13 per cent of the world's population lived in cities. By 2050, that number will rise to 70 per cent, from approximately 3.3 billion people today to 6.4 billion. There is a need to ensure that cities will survive under the crush of demand for access to the power grid.
With the focus on renewable energy, smart grids are likely to get into mainstream. What is the situation?
In India, the long-standing electric and utility business models are rapidly becoming outdated due to new technologies, policy changes and more demanding consumers.
To succeed, industry model innovators must develop fresh business models, infrastructure, rules and standards to facilitate energy generation and delivery enabled by new technologies.
One way to overcome this is to transform the present network into an intelligent network with real time communication systems and smart sensors, smart meters and digital controls that can monitor and control power flows in real-time basis.
Smart grids will require huge investments. T&D losses still are very high in India. How do you see smart grids changing this situation?
In India, aggregated technical and commercial losses due to electricity transmission and energy theft are estimated at about 26.4 per cent. Imagine the economic advantage a country can reap by saving, only by plugging the leaks. This absolutely outweighs the significance of necessary investments.
The world's electric utilities are braced to experience more change in the next 20 years than they would have in the last 100. Decisions and trade-offs are being made locally, nationally, and even globally and that will continue to shape the industry for the next 5-10 years.
States like Tamil Nadu with wind power and Gujarat with solar units have huge renewable energy component. What is the status of smart grids there?
We are currently engaged in more than 150 smart grid projects around the world and help utilities realise the full investment of their smart grid programmes. Electric utilities and policy makers are accelerating the transformation of electricity networks and pilot implementations in India are already on the immediate horizon.
We have signed research collaborations with Indian Institute of Technology (IIT) Madras and IIT Kharagpur with the goal of developing systems that would help power grids become more efficient and resilient. There are several other projects.
Utilities around the world are employing ways to integrate new renewable energy resources into their operating systems in order to reach a baseline goal of a 25 per cent renewable energy mix globally by 2025. Applying analytics and harnessing data will allow utilities to tackle the intermittent nature of renewable energy and help forecast power production from solar and wind, in a way never been done before.
We have developed an intelligent system that combines weather and power forecasting and optimise power grid performance.
– The Hindu Business Line
Related posts