India's First Floating Solar Power Station Planned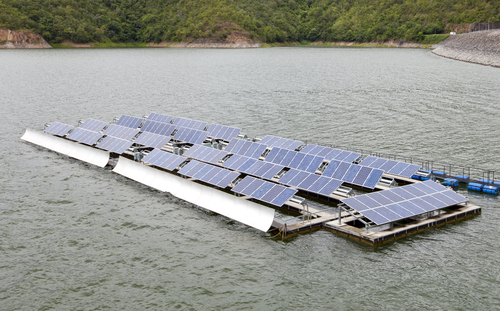 A prototype of India's first floating solar power station could soon be coming up in the pond of Victoria Memorial. If the plan proves to be a success, such floating solar power stations could also be set up in the water reservoirs and dams of hydroelectric power stations thereby increasing their output.
"Developing a floating solar power station would prove to be a revolutionary step as it could solve the perennial problem of land. Such pilot projects are also going on in a few countries such as France and Australia," said SP Gon Choudhury, an international expert in solar energy and the brain behind this project.
The idea is simple. A raft like platform fitted with hollow plastic or tin drums would be floating on water. The power generating equipment such as solar panels would be fitted on this raft so that they can float on water. It would not only solve the problem of land but would also help conserve water in the water bodies. The solar panels, which would be floating on water, would cut off the direct sunlight and hence slow down the rate of evaporation.
"Studies have also shown that if the rear surface of solar panels are kept cooler, then their ability to generate power goes up by 16%. As these solar panels would be floating on water, they are expected to stay cool and hence we can generate more power than those set up on land," Choudhury said.
Choudhury, the former head of the West Bengal Renewable Energy Development Agency, was the man behind the solar energy revolution in the state. He is presently serving as an advisor to the Tripura and Lakshadeep governments on renewable energy. The back-up research-work on developing the prototype is almost complete and the expert team headed by Choudhury is hopeful of commissioning the prototype by 2014.
The prototype would be able to generate 10 KW of power and would require an area of around 100 sq metres. Funded by the ministry of new and renewable energy, it would be the first-of-its-kind project in India. The ministry has already sanctioned Rs. 32 lakh for the project.
"We have written to the Victoria Memorial authorities so that their ponds could be utilised for the project. Requests have also been sent to a few other state government agencies and departments so that the water bodies near Patuli and Science City off the EM Bypass could be utilised," he added.
Choudhury said that his next plan is to set up such floating stations not only on water bodies but also on the reservoirs and dams of the hydroelectric power stations such as Panchet and Mython.
"This would not only help conserve water for the dry seasons when power generation goes down because of lack of water but would also help us generate extra power – solar and hydro from a single station," he added.
Related posts