Alstom will service and upgrade Bang Bo gas-fired power plant in Thailand
A contract worth approximately €90 million
Eastern Power and Electric Co. Ltd (EPEC) has signed a 10-year operations and maintenance (O&M) contract with Alstom for its Bang Bo power plant, located at Khlong Daan, Bang Bo Samut Prakan Province, Thailand. This contract is an extension to the existing O&M contract which expires at the end of March 2013. As part of this contract, Alstom will station permanent employees on site to operate the power plant and carry out all planned and unplanned maintenance at the site. The contract is worth approximately €90 million.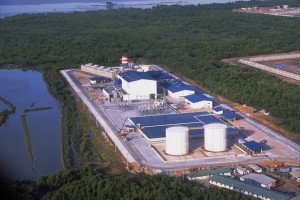 Built in 2000 by Alstom, the 350 MW Bang Bo combined cycle power plant is based on Alstom's GT26 gas turbine. As part of this new service contract, Alstom will upgrade the existing GT26 gas turbine with its latest service offering for this fleet – the MXL2 turbine blade and components. Bang Bo will be the first GT26 power plant in Thailand to receive this upgrade. It is due to be installed in 2014.
 Hans-Peter Meer, Senior Vice President, Alstom Thermal Services said, "This success further demonstrates Alstom's competitiveness in the gas turbine after sales market in Thailand. This upgrade will not only increase the capacity, efficiency and operational flexibility of the power plant but will also extend intervals between major inspections."
 "The renewal of our current operations and maintenance contract with Alstom for a 10-year period is also a reflection of our confidence in Alstom's ability to operate and provide full plant services to Bang Bo power station and ensure our continued competitiveness in the Thai power market", said David Michaels, Managing Director of EPEC.
 Thailand boasts East Asia's largest fleet of Alstom GT26 power plants with seven commercially operational units. Alstom has been present in Thailand for over 40 years and has supplied over 7,000 MW power through its technology. Apart from Bang Bo, Alstom also constructed the 730 MW Bo Win and the 1600 MW Kaeng Khoi 2 gas-fired power plants in the country.
About Alstom
Alstom is a global leader in the world of power generation, power transmission and rail infrastructure and sets the benchmark for innovative and environmentally friendly technologies. Alstom builds the fastest train and the highest capacity automated metro in the world, provides turnkey integrated power plant solutions and associated services for a wide variety of energy sources, including hydro, nuclear, gas, coal and wind, and it offers a wide range of solutions for power transmission, with a focus on smart grids. The Group employs 92,000 people in around 100 countries. It had sales of €20 billion and booked close to €22 billion in orders in 2011/12.
Press contacts Alstom
Emmanuelle Châtelain, Isabelle Tourancheau – Tel +33 1 41 37 38 /39 95
emmanuelle.chatelain@chq.alstom.com, isabelle.tourancheau@chq.alstom.com
Sapna Lalwani (Alstom Thermal Power) – Tel +41 79 486 3798
sapna.lalwani@power.alstom.com
Julie Khoo – Tel +65 6236 1575
Investor Relations
Delphine Brault – Tel.: +33 1 41 49 26 42
delphine.brault@chq.alstom.com
Website www.alstom.com
---
1 The contract will be booked in Q4 of fiscal year 2012-2013
Related posts