Siemens to Supply Prai Power Plant with H-Class Turbines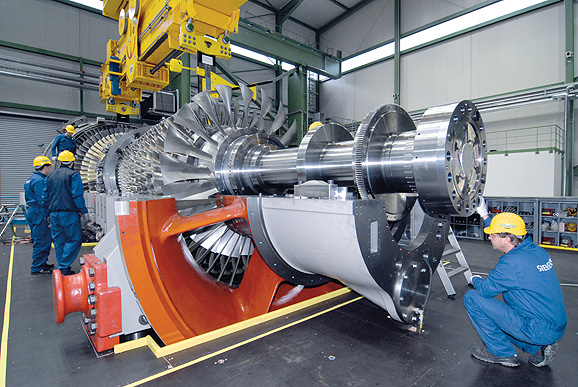 Siemens will supply two H-Class gas turbines for the TNB Prai combined cycle power plant (CCPP) in Malaysia, taking the total of H-Class gas turbines sold worldwide to 22. The company will also supply two generators and two steam turbines. The order was placed by Samsung C&T (KL) Sdn. Bhd. (formerly known as Samsung E&C (M) Sdn. Bhd., which will construct the gas-fired power plant on a lump sum turnkey basis. The end customer is Tenaga Northern Bhd. (TNB), a wholly owned subsidiary of the Malaysian electricity utility company, Tenaga Nasional Berhad. With a generating capacity of about one gigawatt and an efficiency rating of over sixty percent, the TNB Prai CCPP will be the most powerful and efficient gas-fired power plant in the South-East Asian region. Siemens has also entered into a Long-Term Maintenance Contract for the components. The plant is scheduled to go into operation in early 2016. The order value to Siemens for the components is roughly EUR150 million.
Malaysia is one of the newly emerging countries. Rapid advances especially in industrialization lead to increasing electricity needs in Malaysia of about four percent annually. Against this background, further investment in new power plants is expected. The TNB Prai CCPP is being built in the city Seberang Perai in the Malaysian state of Penang. Siemens' scope of delivery comprises two single shaft power trains, each consisting of an SGT5-8000H gas turbine, an SGen-3000W water-cooled generator and an SST-5000 triple-pressure steam turbine and auxiliary systems.
The innovative Siemens H-Class gas turbine is a model of top performance and efficiency. In a combined cycle power plant in Irsching, Germany, the SGT5-8000H set a world record two years ago with an efficiency rating of 60.75 percent and an electrical generating capacity of 578 MW. Since then, this turbine has proven itself with more than 97 percent availability in commercial operation and has reached over 30,000 equivalent operating hours. At the end of April this year, three further power plant units began commercial operation in Cape Canaveral, Florida, using the 60 Hertz version of this turbine.
"We are pleased to have been able to open up the market in South-East Asia with our innovative, proven gas turbine. With its peak values in terms of performance and efficiency rating, our H-Class series of turbines is ideally suited for the newly emerging markets such as Malaysia, where they are seeking to cover their rapidly growing electricity needs quickly using the latest technology," says Roland Fischer, CEO of Siemens Energy's Fossil Power Generation Division.
Related posts