India's renewable energy generation capacity has grown 72 per cent in six yrs
Of the renewable energy sources, excluding large hydro above 25 MW, installed capacity of solar energy capacity registered the highest growth
The installed capacity of renewable energy generation in the country has grown 72 per cent from 80 gigawatt (GW) to 138.9 GW during the past six years, according to new and renewable energy minister R K Singh.
He also added that the foreign direct investments of $6.1 billion flew into the Indian clean energy sector — including solar, wind, biomass, large hydro and nuclear — in the five year period 2014-19.
"Globally, India stands third in terms of renewable power, fourth in terms of wind power, and fifth in terms of solar power installed capacity. For the period 2014-2019, clean energy investments in India were about $75 billion," Singh said in a written reply in Parliament last week.
Of the renewable energy sources, excluding large hydro above 25 MW, installed capacity of solar energy capacity registered the highest growth. It grew from 2.6 GW in March 2014 to 34.4 GW in February this year.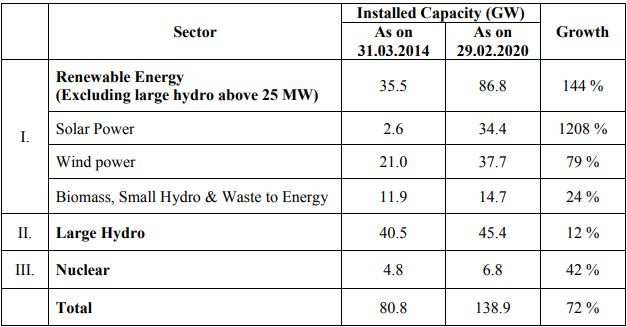 As part of its Intended Nationally Determined Contributions, as per the Paris Climate Agreement, India has committed to install around 40 per cent of its power generation capacity based on non-fossil fuel resources by 2030.
Singh also said an additional 62.4 GW clean energy capacity is currently under various stages of implementation and 34.07 GW is under various stages of bidding.
Most of the clean energy projects, except nuclear power and some large hydro, are set-up in the country by the private sector.
Related posts