DEME Offshore and Lifra Work on new System for Wind Turbine Installs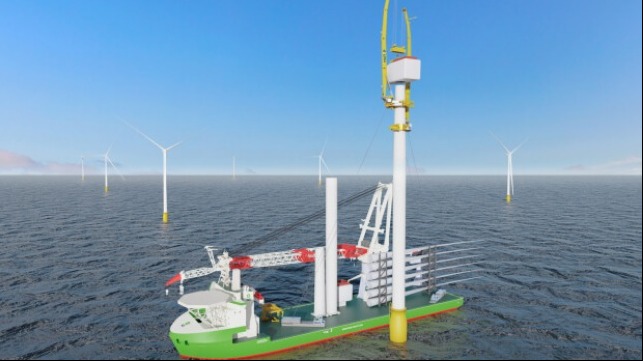 Offshore installation company DEME Offshore is partnering with Lifra, a specialist in lifting and transportation solutions, to develop a new installation method for the next generation of wind farms. The companies will integrate Lifra's crane technology on board DEME's vessels which are already actively deployed in wind farm projects.
One of the challenges facing the installation sector is the growth in size and weight of the next generation of wind turbines as well as the foundations and other components. DEME reports that with the new system, it will be possible to erect higher and heavier turbines using existing vessels. It will both permit a lower cost for installation and provide additional capacity not depending on new ship construction. Multiple companies are making large investments to build new Wind Turbine Installation Vessels (WTIVs) capable of handling the next generation of wind turbines.
DEME says due to its flexibility, the new system under development with Lifra will be able to be used on board its existing floating offshore heavy-lift vessels such as the Orion and Green Jade. Commissioned in 2019, the Orion is a 710-foot heavy lift vessel with a payload capacity of 30,000 tons and a current main crane able to lift 5,000 tons. Orion was part of the team assigned by DEME Offshore for the contract to transport and installation of 165 foundations at Ørsted's Hornsea Two offshore wind farm in the UK. Green Jade is being built at CSBC's shipyard in Kaohsiung, Taiwan as the first floating, DP3 offshore installation vessel to be built in Taiwan. With a 4,000-tonne crane capacity, Green Jade is set to be deployed for both the Hai Long and Zhong Neng offshore wind farm projects and remain based primarily in Asia Pacific to serve the region's emerging wind industry. DEME says the new crane system can also be used on its existing jack-up vessels.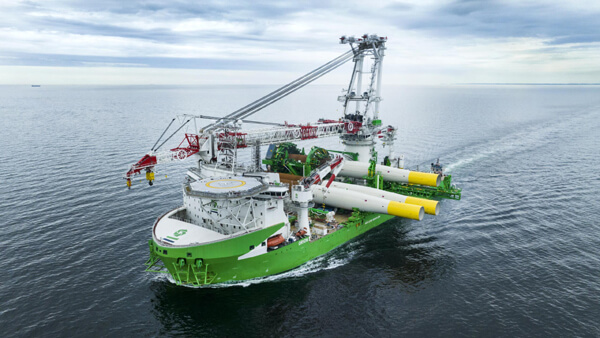 DEME Offshore says the system will be employed with its Orion heavy-lift vessel as well as existing jack-ups (DEME Offshore)
Lifra looks to leverage its experience in lifting and transport technology using the LT 1500 installation crane technology. The crane is used for onshore wind farm installations and can handle hub heights up to 820 feet and uses Lifra's extremely compact design. The company also has a unique experience with a special configuration of two cranes working in parallel.
"DEME Offshore is excited to again bring a game-changing installation concept to the industry," said Bart de Poorter, General Manager of DEME Offshore Renewables. "There are many advantages of this new joint technology, the major one being the ability to install fixed or floating turbines from a floating vessel, which naturally means there are no limitations regarding water depth. As well as this, there are no longer any lifting height issues, and relative motions at high heights can be controlled."
The partners will develop and integrate the technology in stages following an extensive testing program. They expect the new system to be operational in 2027.
Related posts