China can boost ASEAN's Smart City Dreams
China has a lot to offer the ambitious Asean Smart City Network project and has pledged to share its experience and technology
But the rise of anti-China sentiment in Asean over South China Sea tensions and unpopular Mekong dam projects may hinder cooperation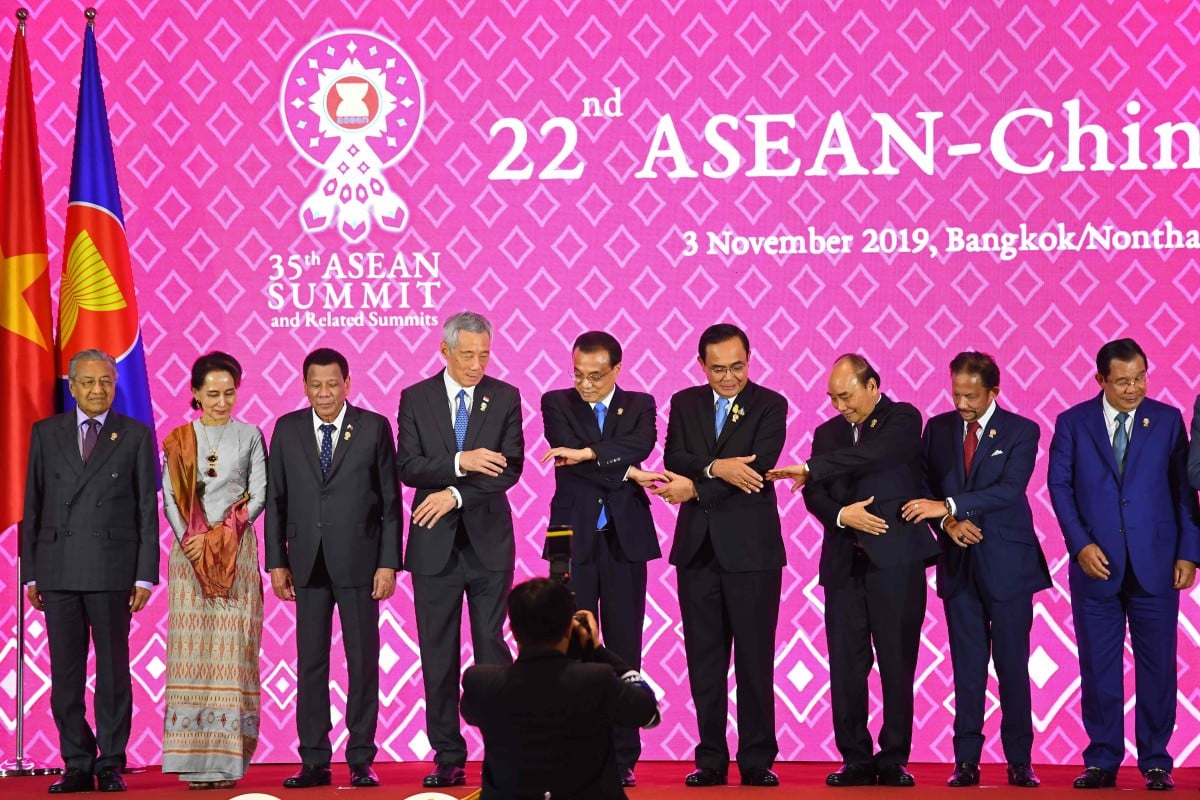 China's Premier Li Keqiang (centre) poses for a group photo at the 22nd Asean-China Summit in Bangkok last November. Photo: AFPChina is the latest nation to pledge support for the Asean Smart City Network, which aims to address the Southeast Asian bloc's urbanisation challenges through digital technology and innovation, an ambitious plan supported also by the United States, Australia and South Korea.The network was launched in 2018 with 26 cities under pilot programmes, including Bandar Seri Begawan, Battambang, Bangkok, Cebu City, Da Nang, Jakarta, Hanoi, Kota Kinabalu, Luang Prabang, Phuket, Singapore and Yangon.Following the Asean-China joint statement on cooperation last November, Chinese tech giant Huawei opened an artificial intelligence centre in Singapore, the island-state's first 5G-enabled AI lab. The US$10 million centre plans to train thousands of developers to promote AI technologies for social and economic benefit.So, what expertise can China share? Firstly, both China and Asean have experience with rapid urbanisation, with China's urbanisation rate at 60 per cent at end-2018 and Asean's at around 50 per cent today. The government-funded Centre for Liveable Cities in Singapore points out that Asean's fastest-growing cities are its medium-sized ones, with population sizes ranging from 200,000 to 2 million, such as Vientiane, Davao, Denpasar, Makassar, Johor Bahru and Da Nang. These cities are urbanising at an unprecedented rate of more than 6 per cent annually, a rate that only Chinese cities come close to.
China to make Shenzhen into a model city with bolder reforms China brings with it the experience of crafting a rigorous urban master plan to create more than 250 low-carbon eco-cities with business opportunities and liveability. Likewise, Asean is working to incorporate environmental protection in urban development within the framework of its sustainable urbanisation strategy.Secondly, China has built more economic centres than any other nation, transforming previous unknowns such as Hefei, Chengdu, Dalian, Chongqing and Wuhan into vital economic generators. Chengdu , for instance, grew its gross domestic product from US$137 billion in 2012 to US$206 billion in 2017, up by half in just five years. And it plans to add US$75 million in GDP by 2022 by focusing on six aspects of its new economy: digital, smart, green, creative, traffic and shared.
Further, China successfully maintains smart urban agglomeration across the country. The three most significant clusters –Beijing-Tianjin-Hebei, Yangtze River Delta and Pearl River Delta – constitute around 40 per cent of China's GDP. These agglomerations are supported by extensive corridors of smart infrastructure and labour supply, making them attractive to investment.
This can be an exemplary prototype for Asean in its plans to deepen economic integration, including by enhancing regional infrastructure to spur economic growth.
However, China, for its impressive achievements and willingness to share its expertise in smart urbanisation, may face challenges as anti-China sentiment in Asean grows.
Related posts